We've all dreamed of the day when we can have our own fairytale proposal complete with fireworks and a rose petal walkway.
You've probably fantasized about your loved one whisking you off to a romantic getaway to some exotic location straight out of your favorite romantic comedy. Whether they've suggested a beautiful summer tan in Hawaii or snuggling by the fireplace in the Swiss Alps, you always decide to just go with it.
If you're looking for the perfect place to create some fantastic memories with your beloved, you've come to the right place. Krakow, Poland with its medieval vibe and natural beauty could become the place where you finally decide to tie the knot.
Krakow – The Real City of Love
Whether you go in the summers or the winters, Krakow has plenty to offer all year round. Let's take a look at the most romantic spots and things to do in this beautful city.
Wolski Forest (Las Wolski)
A walk through the woods is always romantic. It's just the two of you and the natural beauty around you. This gorgeous green terrain has everything from hiking trails to bike paths to horse riding.
If you just want to take a long, romantic stroll, you can visit the Pilsudski Mound or the Camaldolese Monastery. The views from the mound make it an ideal date spot. The monastery's rich history and impressive layout might just want to make you renew your vows.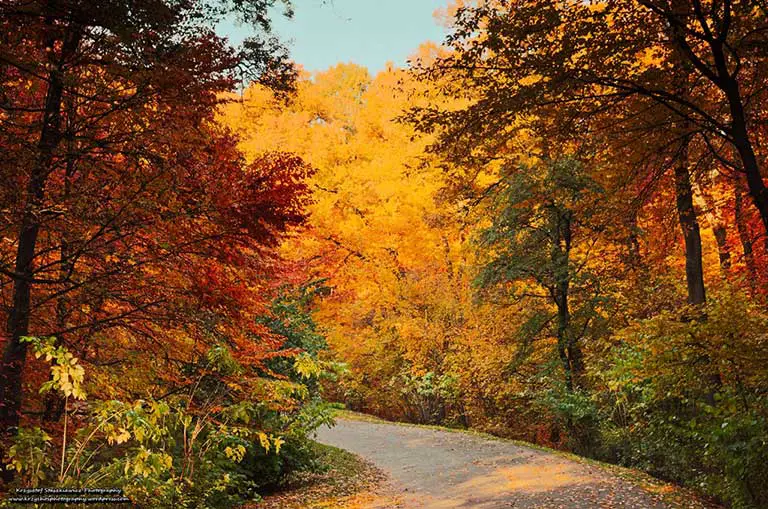 Botanical Gardens
This haven of exotic plants and flowers is one of the best places to propose in Krakow. With its ethereal feel, this place is both affordable and easily accessible. It's open for the most part of the day and is ideally visited between April and October.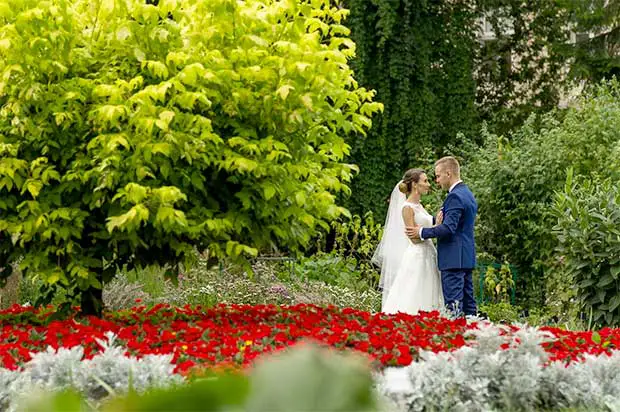 Zakrzówek
If nature puts you in the mood, Zakrzówek is perfect for you. Located on the outskirts of the city, this warm blue crystalline lake is the perfect place for your proposal. The stunning view of the shimmering lake is likely to blow away your mind and you'll say yes to practically anything.
You can take a dip in the lake, but be mindful of the surroundings- the limestone quarries can be dangerous if you take a long dive. Once you're done soaking up some water and sun, you can visit the parks and trails nearby.
Main Square
If you're a fan of telenovelas and soap operas and you wait for that big moment where the long lost couple have a grand reunion in the middle of the town square (with music and a grand dance number in the surrounding area), Main Square is perfect. While it sounds strange to share one of the most special moments of your life in the middle of a crowded town square, this spot is actually what you're looking for.
Choose a quiet time like sunrise when you can see the sun reflecting in your partner's eyes and they've never looked more beautiful. Complete with old cathedrals and carved water fountains around you and you don't even need a string quartet or a flurry of white doves.
Kazimierz District
This one should definitely be on your list of romantic places to visit in Krakow. If you want a perfect date in Krakow, this place can help you make some magical memories. With its small shops selling exquisite hand-crafted presents, cozy cafes providing exotic drinks, the area has a very laid-back, relaxed atmosphere.
Take a walk through time in this culturally rich, almost mysterious Jewish district. Experience local music and hear new languages at the annual Jewish Cultural Festival. The cobblestoned streets and the old synagogues are both a history lesson and an adventure packed into one.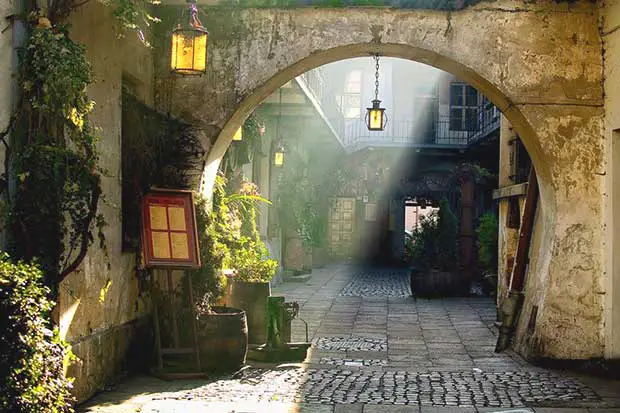 Tyniec Abbey
If your idea of a romantic date involves a bit of exercise, then a stroll down to Benedictine Abbey is a good idea. This 10+ kilometer walk on Tyniecka Street is one to stimulate the senses. The rolling greens, the limestone mounds, and the abbey itself form quite a breathtaking view.
If you love history and learning about new cultures, there's even a small museum nearby if you fancy a visit. You can multiply the romance factor by opting for the cruise that'll take you back to Tyniec when you're done.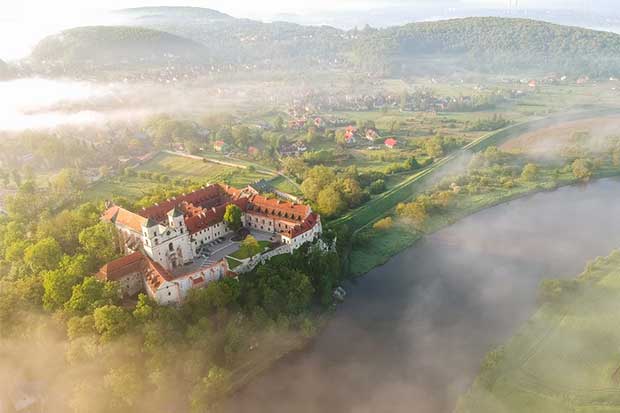 Kosciuszko Mound
If you're looking for date ideas and romantic places in Krakow, this one should be near the top of your list. Let's start off with the fact that this place is magical at night. Reach the top of Kościuszki Mound and enjoy a full scale view of the town below you. Meet the gaze of your beloved under the stars and fall in love all over again.
If you want a little more "we time" and an even better view, go for the hot air balloon. Float together above Wawel Castle and create a fairytale of your own.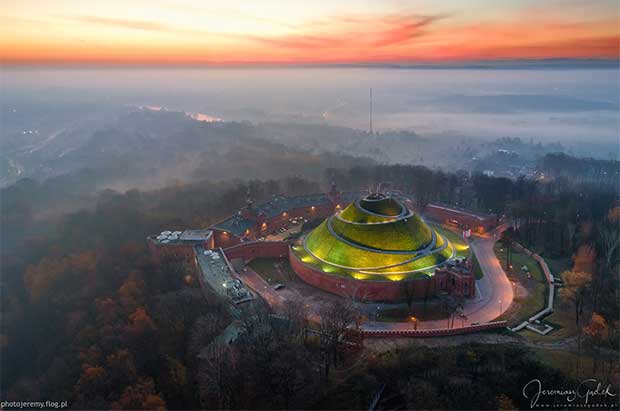 Wawel Castle
During the day, you can take a tour of Wawel Castle itself. This castle, beloved to all the citizens of Poland is rich in Polish culture, and its stunning interior and exterior can make for a great day before you head out for your hot air balloon ride.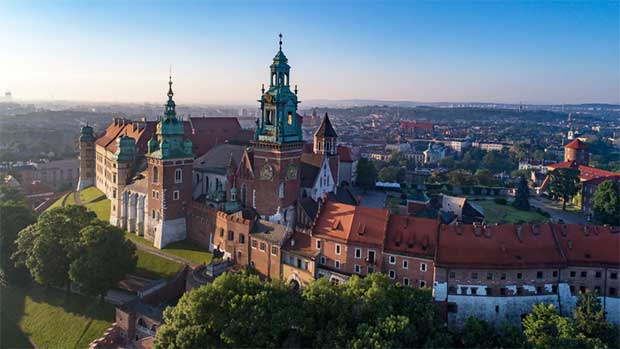 Wieliczka Salt Mine
The Wieliczka Salt Mines are one of the oldest landmines globally. These dimly lit stone caves have underground lakes and even chapels and statues, all made of limestone, which make for a stunning, medieval romantic setting.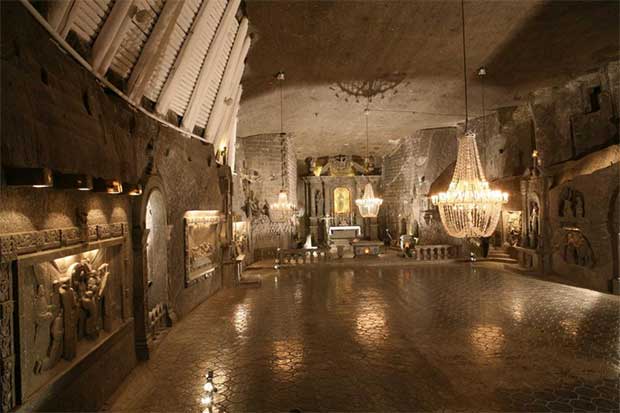 Let's Eat!
No vacation is complete without food and no romantic holiday is complete without a romantic dinner or two. Here are some great places where you can wine and dine and get to know each other again.
Aqua E Vino
This cellar-like restaurant has a chic, modern look. Pair that with some delicious, authentic Italian food (including vegan options!), incredible service and an array of drinks, and you've got yourself a date.
Bianca
We just can't seem to resist some good Italian food. Or maybe we're just trying to recreate the spaghetti and meatballs moment from Lady and the Tramp. This cozy restaurant offers large servings of whatever you order so you can spend more time having a great meal with the one you love. With an open kitchen, you even get to see where the magic happens.
Copernicus Restaurant
If it's a really special occasion, you can opt for something a little more premium like the Copernicus Restaurant. Indulge in a five, seven or twelve-course meal and enjoy a fine selection of drinks with your meal. Have a romantic evening by the fireplace, and if you're ready for it, this place could be where you finally propose!
Guliwer Café & Restaurant
Close to the Market Square, this restaurant is a bit more pocket-friendly and you can go all out to make this date a memorable one. Be a part of those couples dotted all over the restaurant, holding hands and sharing good food and drinks.
Enjoy the European cuisine at its finest or even some traditional bakery items if you're out for tea. They have a great selection of tarts, pies, cakes and even hot chocolate, tea and whatever else you may possibly want. The pleasant and cozy atmosphere makes it perfect for a romantic date.
Get Packing!
By now you're probably already looking for tickets and texting your partner to find out the dates they're available at. This beautiful Polish city is the perfect combination of medieval meets 21st century. Its natural beauty, the exquisite, intricate historic landmarks and the local cuisine come together to create the experience of a lifetime.
If you've been too nervous about popping the question, maybe you just haven't been to the right place. The soothing, intimate and romantic places in Krakow might just be what you're looking for. Or maybe it's time to reconnect and spend some time together. Whatever you want to do, whether it's to have an adventure or a quaint stroll through the streets, Krakow has you covered.
Videos for Romantic Places in Krakow
Watch these great videos for some great views and moments from Krakow.