Explore These 10 Most Beautiful Ice Caves in the World
Discovering hidden natural wonders not only awes but inspires as you revel in what the earth is capable of creating. One of these wonders lay in the unlikeliest of places, encapsulated in sheets of glacial ice. While glaciers can stretch for miles and miles, it's the incredibly carved ice caves within that can create a mysterious fascination. The otherworldly effect when entering an ice cave can only be described as a type of magic conjured up by nature. Surrounded by astonishing beauty, you become frozen in time in their stillness. Whether you're new to this type of adventure or consider yourself a professional explorer, here are 10 of the most beautiful ice caves in the world.
10. Big Four Ice Caves, Mount Rainier, USA
As you approach the Big Four mountain range, you may be tempted to revel in the beauty of the mountains alone. Yet, below, where the streams flow, and the melting occurs, is an ice cave hidden in its clutches. The cave's creation is a result of the cold air surrounding the 2,450 ft. mountains throughout the seasons. Snow debris piles up quickly, and avalanches are common here, so anyone visiting will need to tread carefully.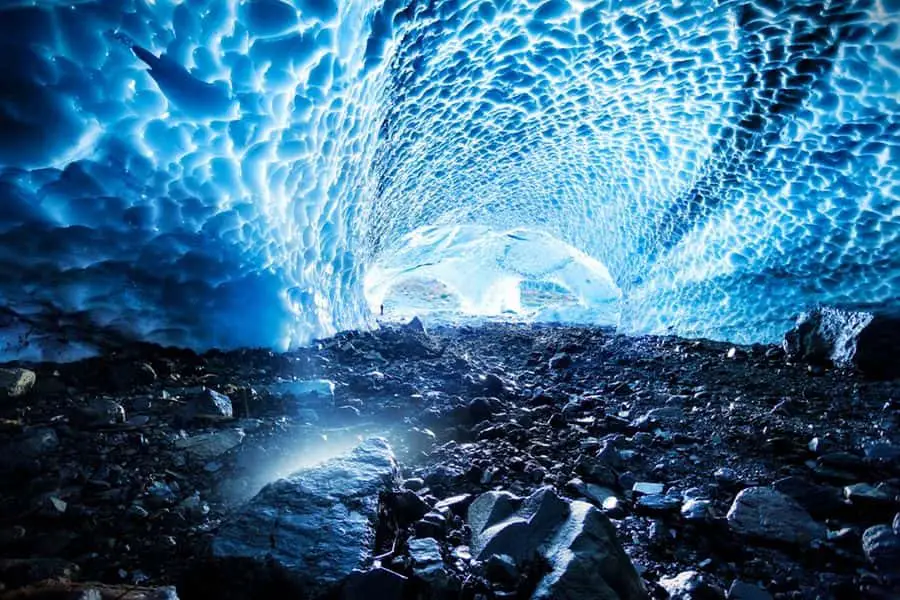 9. Dobšinská Ice Cave, Dobšiná, Slovakia
Step back in time and explore the Dobšinská Ice Cave within the Slovak Paradise National Park, a UNESCO World Heritage Site. Centuries old, the ice here is incredibly thick, forming floor to ceiling formations, corridors, and an area much like a great hall. Rumored to be open to the public since the 1800s, Dobšinská Ice Cave is accessible by stairs and well-lit for safety. Both beginners and pros can visit between May and September.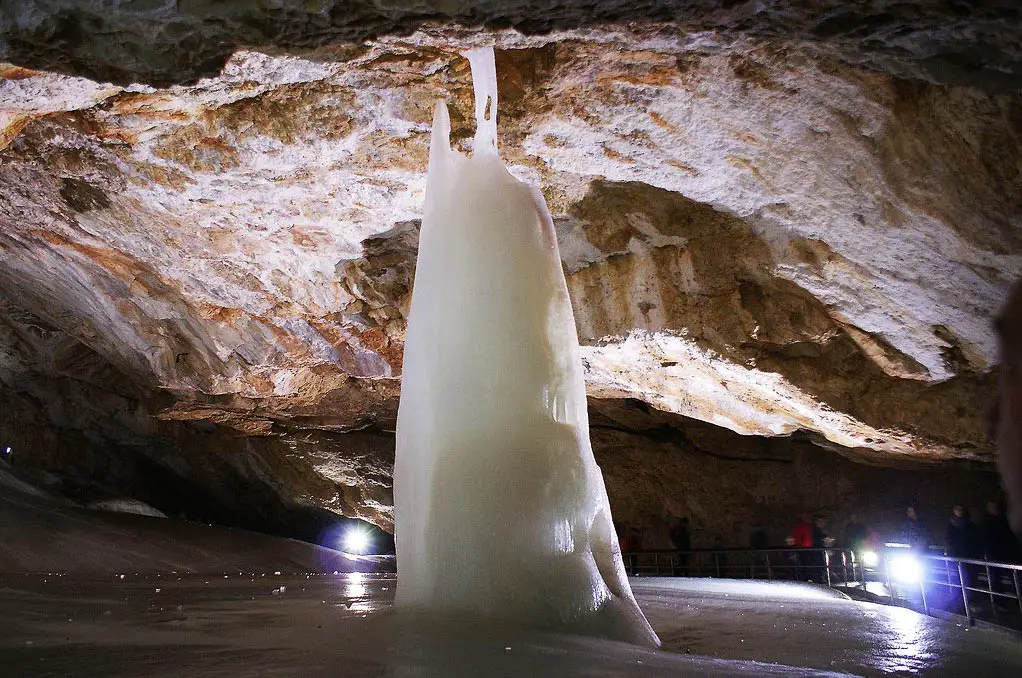 8. Booming Ice Chasm, Canadian Rockies, Canada
Hidden beneath the Rocky Mountains in Canada is a somewhat recently discovered beauty, deemed more suitable for professional explorers than beginners. Expect a steep climb and dangerously slippery surface to reach this ice cave. Thick sheets of ice, crystal clear in design, line the sides of the chasm. Inside, be amazed by the acoustics, with amplification of voices and other sounds being on the verge of deafening. Situated near the borders of Alberta and British Columbia, this ice cave remains frozen all year. As for accessibility, even experienced climbers report it difficult to reach.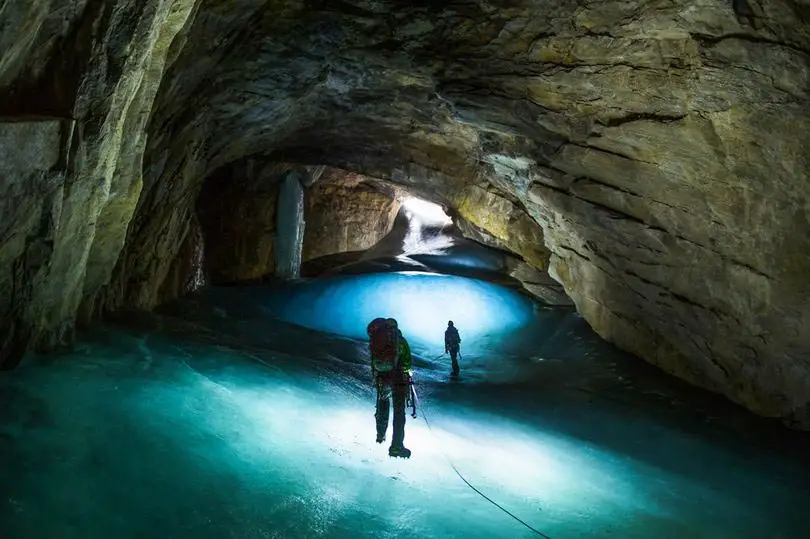 7. Eisriesenwelt, Werfen, Austria
Explore the world's largest ice cave in the Austrian Alps and feel enveloped in ice as you hike through icicle-laden passageways and rooms. As the snow melts, water seeps in through crevices and finds its way to the cave's bottom, forming incredible ice formations. Easily accessible from Salzburg, many options are available for tourists of all ages.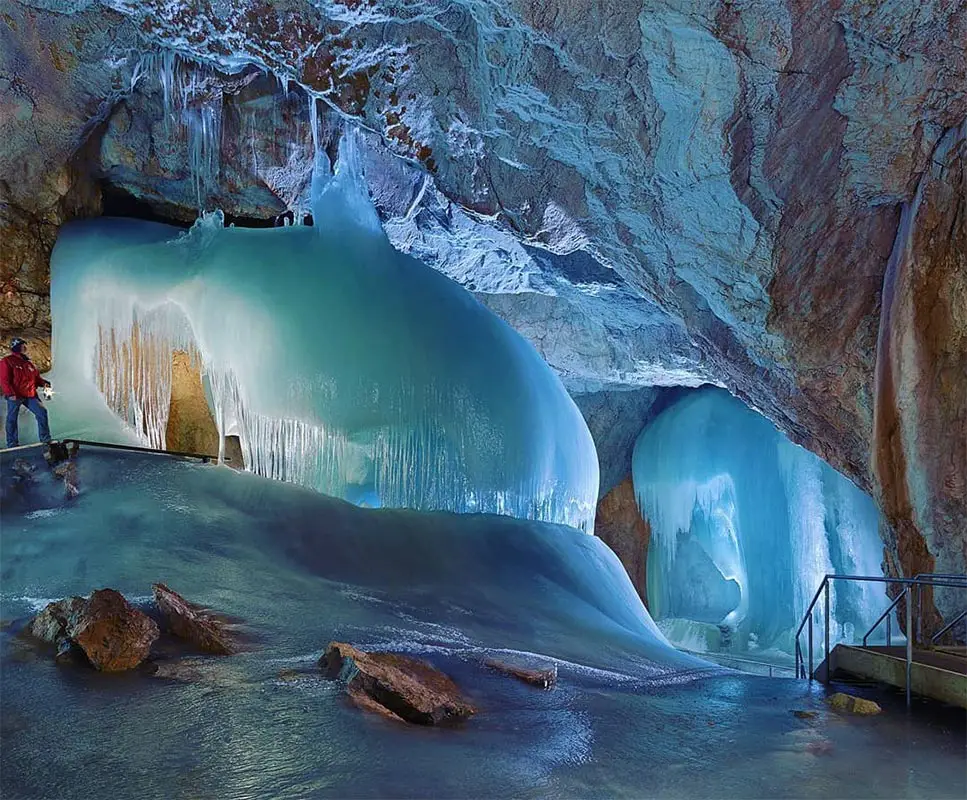 6. Ice Pavilion, Mittelallalin, Switzerland
Switzerland is known for its beauty and doesn't disappoint with its naturally-formed Ice Pavilion near Mittelallalin. Touted as the largest ice grotto in the world, created potentially millions of years ago, this maze of ice caves is a mixture of natural and man-made sculptures. The natural formations inspired the addition of artist-made formations, which complement the beauty inside.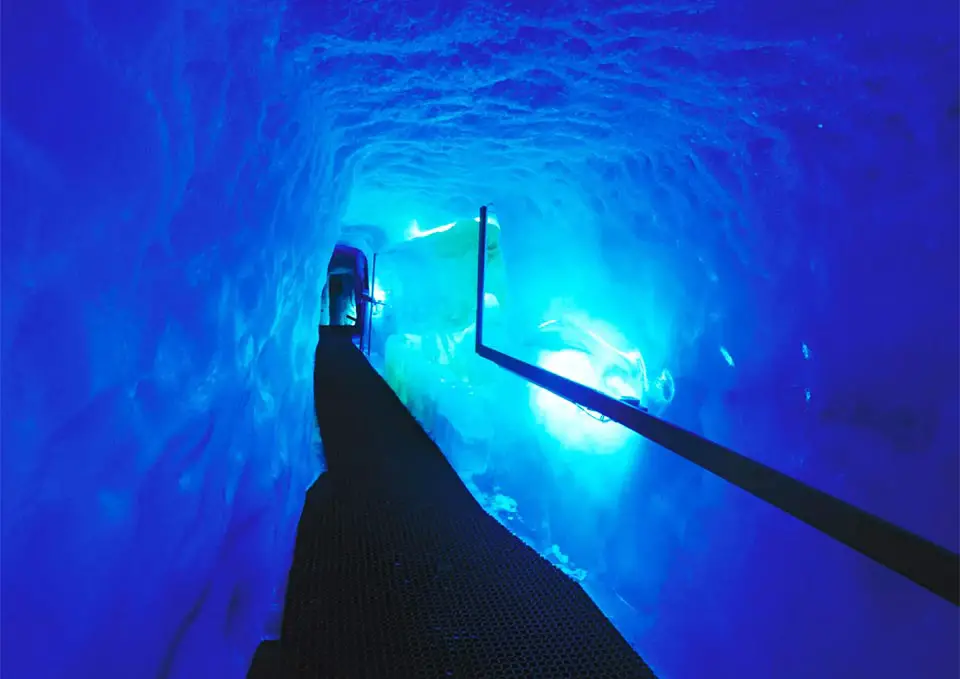 5. Kamchatka's Ice Cave, Russia
Be enthralled by the fire and ice effect of the Kamchatka's Ice Cave in Russia. The formation has been created by flowing hot spring waters reaching in from the nearby active volcano. This remote location in one of the coldest and harshest areas of Russia but is worth the effort to get to if you crave an adventure. As the sun shines on the thin roof of the ice cave, multi-colored lights dance across, creating a mesmerizing glow. Some say you even feel a shifting in the glacier as you walk along the interior cold stream.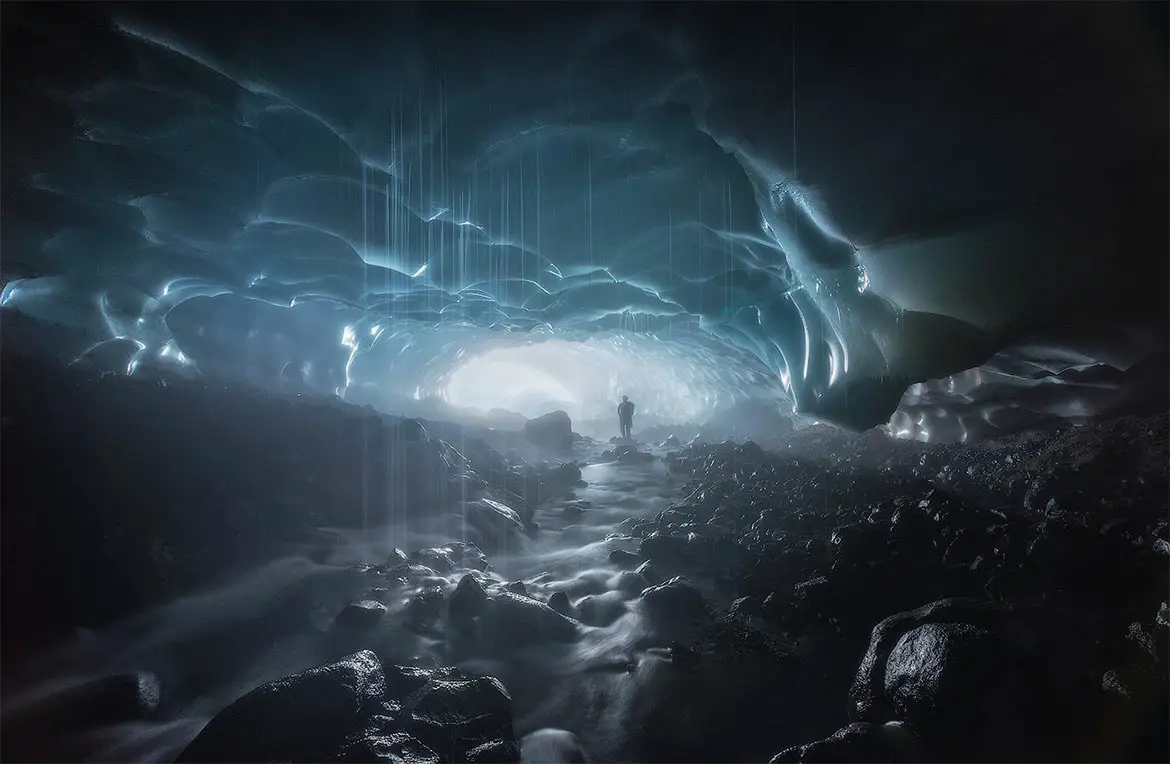 4. Gorner Glacier, Valais, Switzerland
To the east of Zermatt sits the second largest glacier in the Alps, the Gorner Glacier. Deep within, carved ice caves tunnel throughout the glacier. These untouched caves were only recently mapped in 2012 by a team of professionals who had to dig then descend through vertical shafts to discover all that lay within the glacier.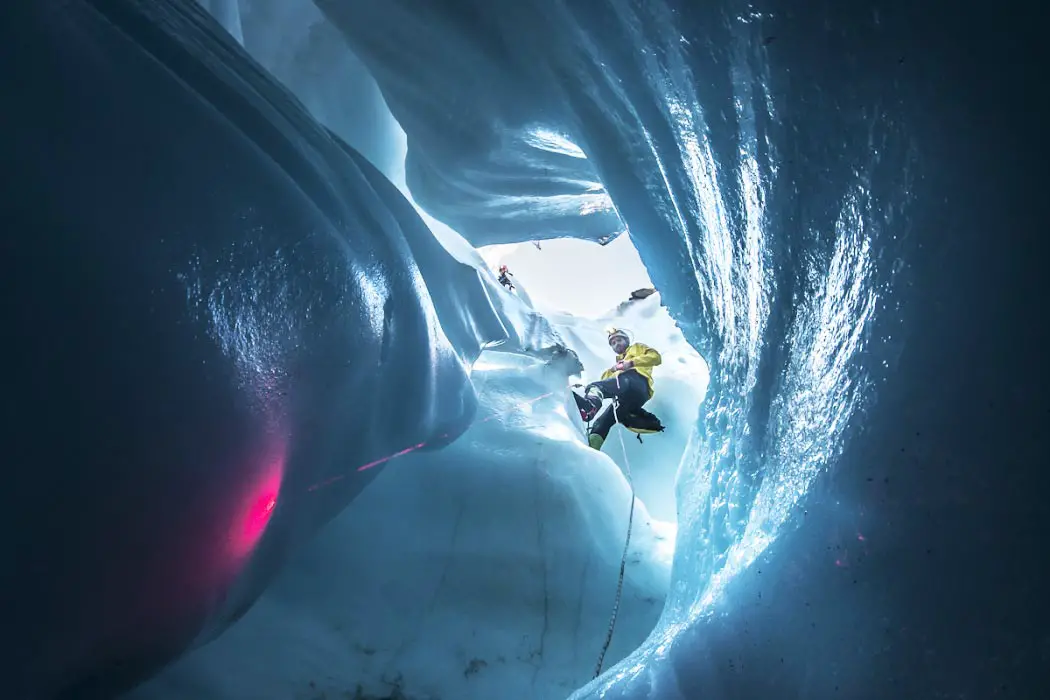 3. Mer de Glace, Chamonix, France
Located in France's Chamonix Valley, on Mont Blanc, the Mer de Glace ice cave is accessed through a glacial hollow. Follow along this passageway until you reach a thrilling wonder of colorful lighting and crystal-like ice sculptures.
The Mer de Glace is remarkable in that it is man-made instead of nature-made, but initially with only ice picks by carvers in 1946. Each year re-carvings take place due to the glacier's shifting. Within is a display featuring 19th-century mountain life, making this ice cave a truly unique experience. Enjoy a cog train ride to get here and maneuver approximately 400 steps down into the cave.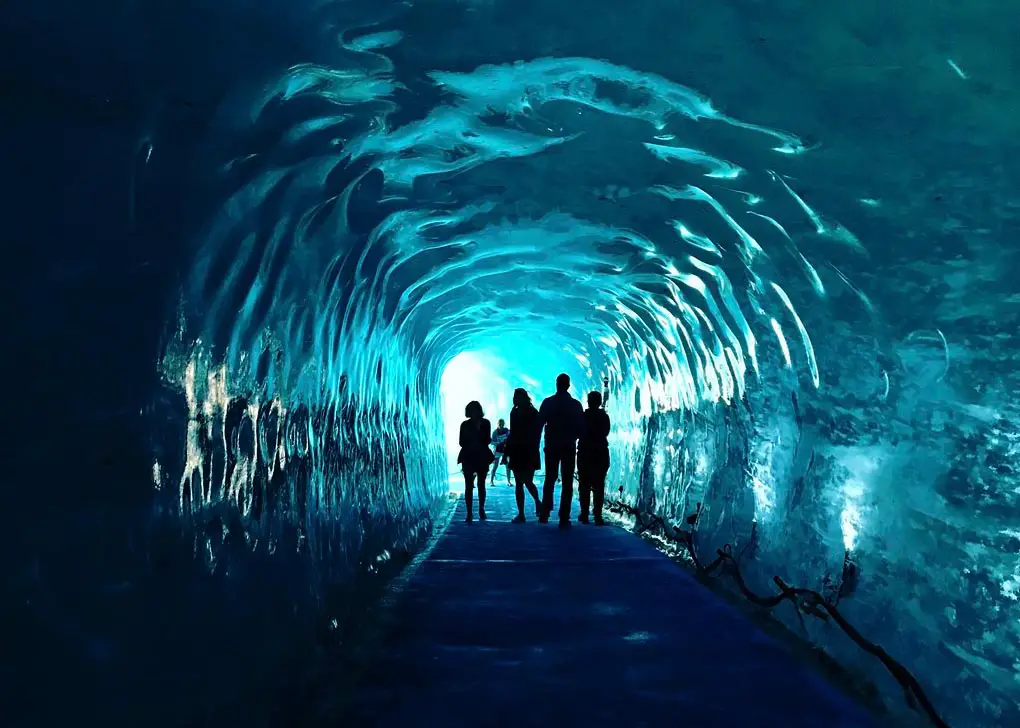 2. Mendenhall Glacier Ice Caves, Juneau, Alaska, USA
Created some 3,000 years ago, the gigantic Mendenhall Glacier shifts every year and changes shape as it nears Mendenhall Lake. A stunning network of ice caves lay hidden below. As the ice itself slowly melts beneath the glacier, new springs flow through and enhance the beauty of the ice caves even more. With little climate change throughout the year here, the ice caves remain constantly accessible most days.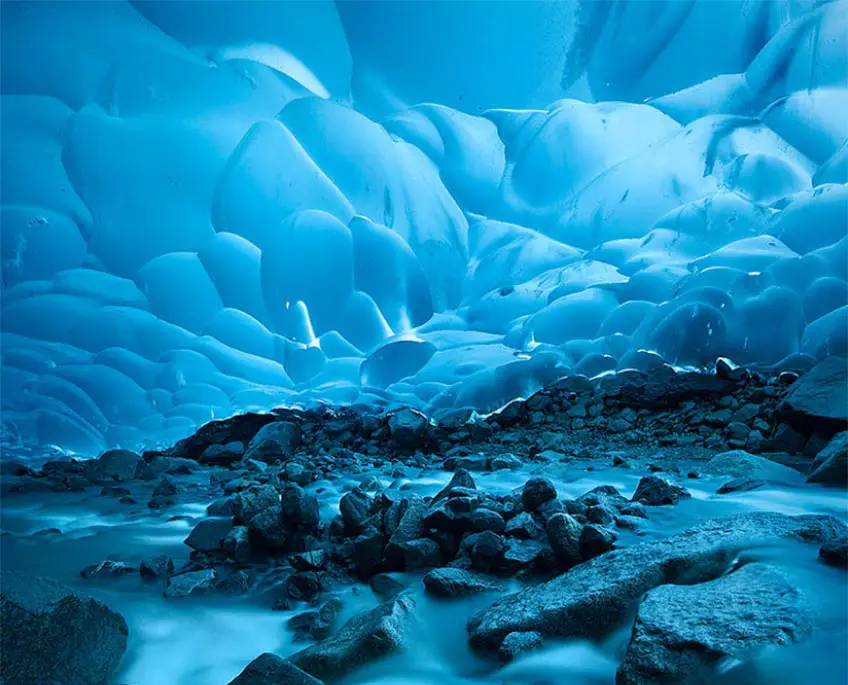 1. Skaftafell Ice Cave, Iceland
Underneath one of the world's largest glaciers are numerous caves carved out of the ice over thousands of years ago. The most well-known of these caves is the Skaftafell, an icy wonder saturated in deep blue colors. Add to this mesmerizing view the sound of crackling ice as the glacier slowly drifts along. Located in popular Skaftafell National Park, the best time to visit this most beautiful ice cave is during the winter.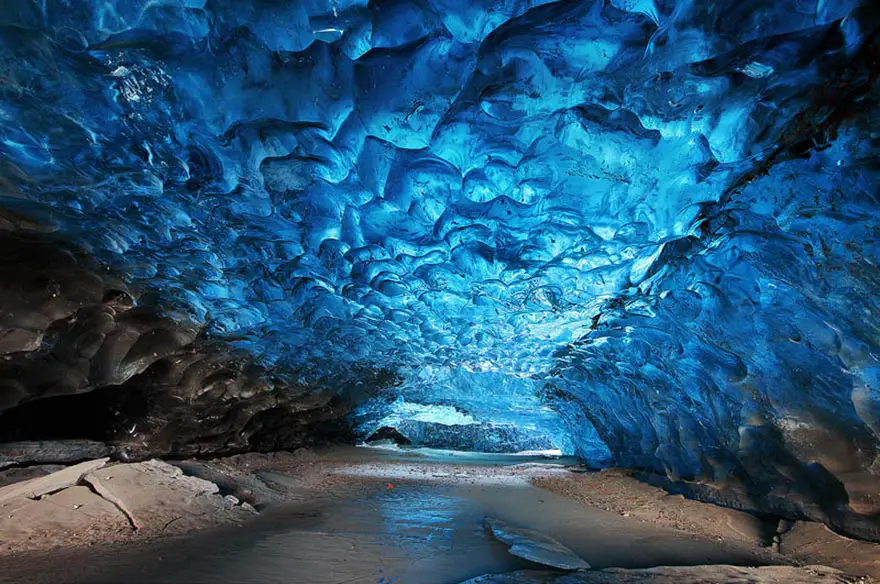 BONUS:

Los Glaciares National Park, Argentina

Located in the Andes, Los Glaciares National Park is a UNESCO World Heritage Site and a popular destination for those looking for glacier treks and icy scenery. While not your typical ice cave destination, this glacier hides a set of caves full of icicles forming from both its floor and ceiling. One way to see this unique sea ice cave is by boat tour.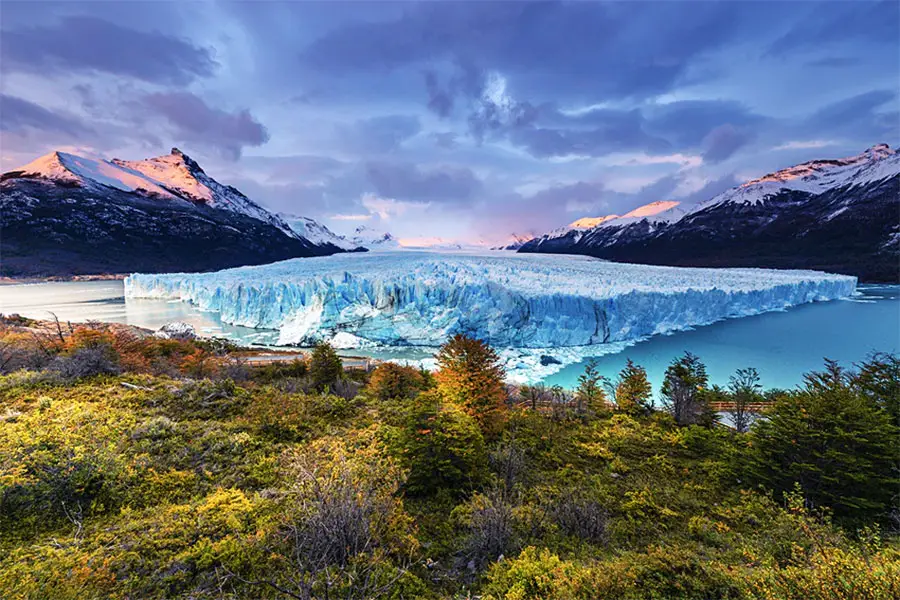 Bottom Line
Exploring ice caves can be a dream come true for many and an unexpected surprise for those new to the notion. Nature has formed, perhaps, the most perfect sculpture in the unlikeliest of places and can forever change the perception of beauty. These top ten beautiful ice caves around the world are proof of that.