Perched on enormous hands, the Golden Bridge in Vietnam has quickly become one of the country's most popular attractions. Nestled amidst scenic hills, the structure looks truly epic in photos, quickly earning its place on the must-see lists.
But does it live up to the hype? When considering the hidden gems of Vietnam, should this place be on the radar? Let's find out!
Where Is The Golden Bridge Located?
The amazing Golden Bridge, also known as the Golden Hands Bridge is located in central Vietnam. This stunning 150-meter-long bridge was opened in June 2018 and hovers at an impressive altitude of 1,414 meters above sea level.
It was built above the lush and picturesque Ba Na Hills, making it a popular attraction for tourists and Instagrammers alike.
To get there, the closest city is Da Nang, which is about 35 km away. If you're staying in the nearby must-see town of Hoi An, it's a bit further at about 60 km, but it's still easy to organize a trip.
Most hotels offer private car transfers, but you can also rent a scooter or choose bus transport if you prefer. The choice is yours!
A Story Behind These Giant Hands
One of the most eye-catching features of the bridge is undoubtedly its unique supports – two enormous hands that appear straight out of a magical world.
Seeing them gives you the feeling that even the God of the Mountains himself has raised this magnificent bridge to the sky, leaving the lush green forests below.
It's interesting to note that the hands have been deliberately designed to look old, adding to the enchanting ambiance of the place. Though they might look like they were carved out of stone, in reality, they were created using a concrete skeleton covered with a steel mesh, fiberglass, and then styled with a weathered finish to achieve their stunning appearance.
How Much Does It Cost To Walk On The Golden Bridge?
Well, here's the thing – the Golden Bridge is just one tiny piece of the huge Sun World Ba Na Hills theme park. So even if you're only interested in walking across the bridge, you still have to pay the entrance fee for the entire complex and access to all of the other attractions.
The ticket will run you about 700,000 VND (which is roughly USD 30) per person, which might seem a bit steep by Vietnamese standards, especially when you factor in transportation costs. But hey, when it comes to unique experiences and stunning views, sometimes you just have to splurge a little, right?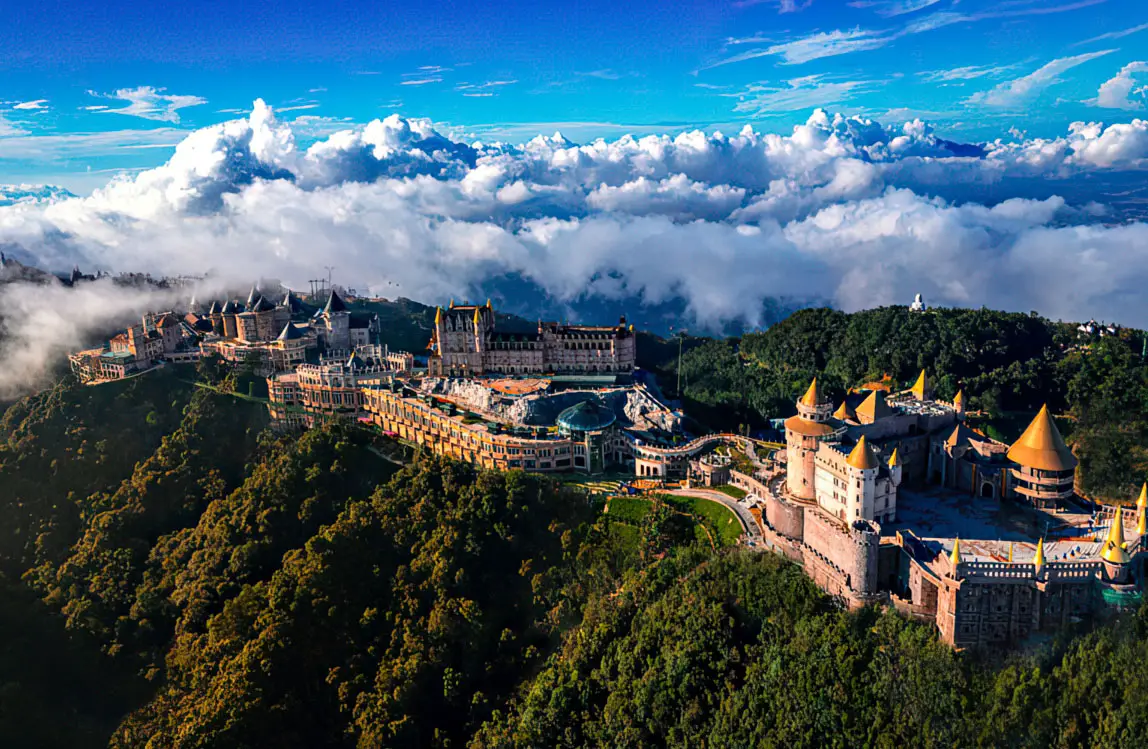 Getting To The Golden Bridge Is An Adventure In Itself And You're In For A Treat!
Before you reach the bridge, you'll experience a little adventure. First, you'll ride the longest cable car in the world, which has entered the Guinness Book of Records, stretching for an impressive 5042 meters!
This is probably one of the best things that will happen to you on this trip. The cable car glides over hills covered with tropical forest, and you'll spot beautiful waterfalls here and there.
As you ascend higher and higher, you'll feel the excitement building up inside you, and after about 20 minutes of this thrilling ride, you'll finally reach your destination. What will you find there? A village built in the likeness of a French settlement, Chinese pagodas, a fantasy park, a wax museum, a flower garden… basically, everything you can imagine!
Somewhere in this multitude of attractions, you'll find the famous Golden Bridge waiting for you.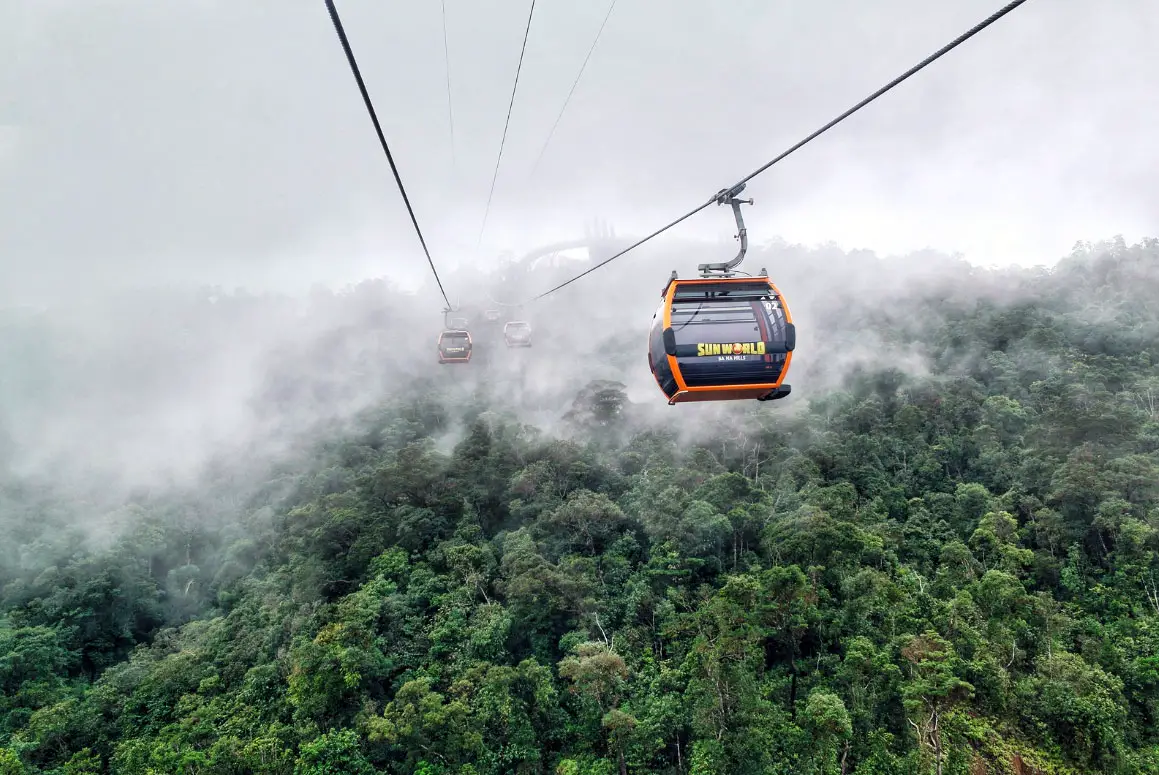 Tips To Take A Photoshoot Of Your Limetime
The Golden Bridge is undoubtedly one of the most photogenic places in the world. You won't need any convincing that it's the perfect spot to capture photos that will take your breath away. From artists and influencers to wedding photographers and regular tourists, everyone is drawn to this unique and stunning scenery.
In the morning, the misty weather gives your photos a touch of mystery. During the evening, the setting sun casts a romantic golden light, making it a perfect time for couples to take some lovely photos together.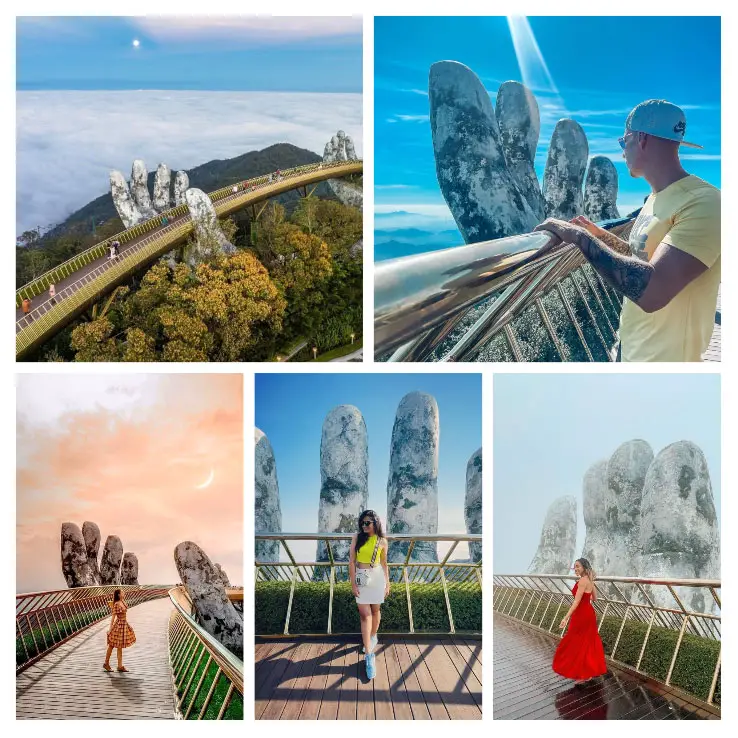 However, to get the best shots, you should avoid crowds. To do so, be sure to check our tips on the best times to visit the Golden Bridge for a more peaceful and enjoyable photo session.
Best Time To Visit For Good Weather And To Avoid Crowds
The weather on the Golden Bridge is cool and pleasant throughout the year, although it can get misty and foggy during the rainy season. If you want to capture some stunning pictures of the iconic bridge under clear skies, it's best to visit between March and September. The warmest time is from June to August, but it's also the peak tourist season.
The Golden Bridge in Da Nang is open every day from 7:00 a.m. to 9:30 p.m. However, it can get quite crowded between 9:00 a.m. and 5:00 p.m. when many visitors come to catch the sunrise and sunset moments.
To avoid the crowds, it's best to plan your visit earlier or later in the day, especially before 9:00 a.m. or after 5:00 p.m. This way, you can enjoy the serene atmosphere and the beautiful golden light without feeling rushed or crowded.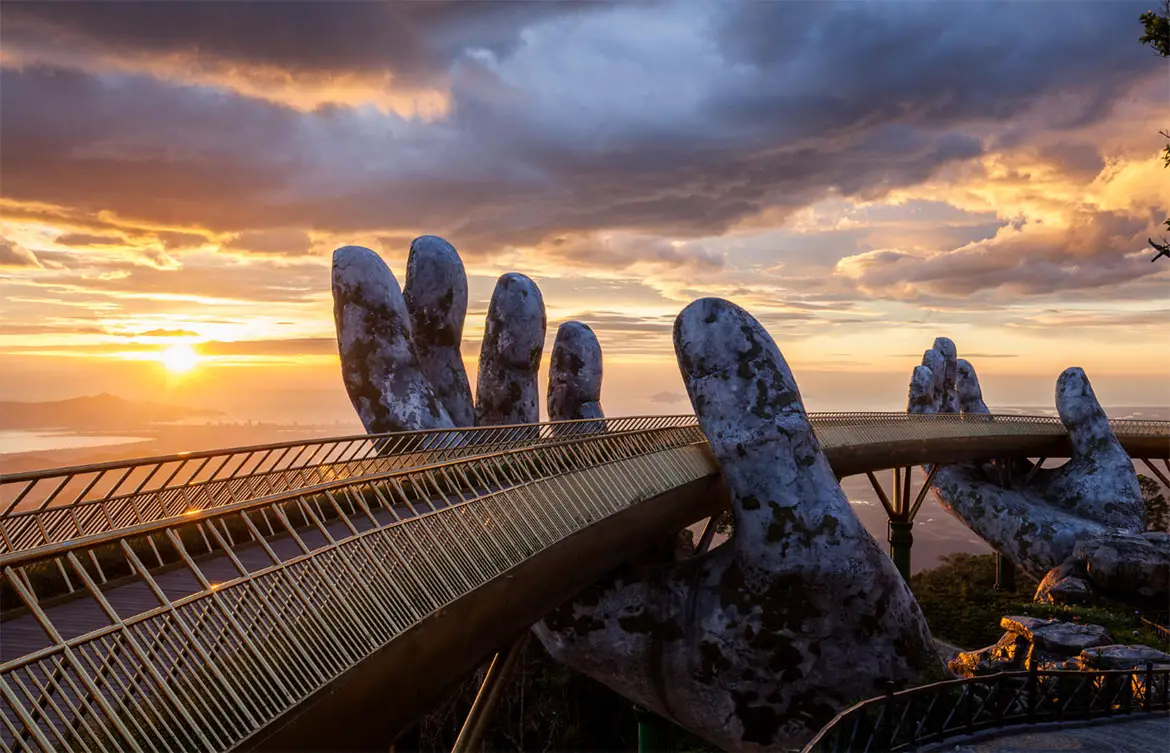 Interesting Facts
Here are some quick facts about the Golden Bridge:
It measures 150 meters in length and 12.8 meters in width, with a design that incorporates 8 arches.
The bridge hosts various events, including a wedding fashion show.
It is part of a $2 billion project to make this part of Vietnam more attractive and attract tourists to the area.
Picture of the Golden Bridge won the world's best photo of architecture contest held by Agora in 2020.
Despite being built in 2018, it has already become one of Vietnam's top tourist attractions.